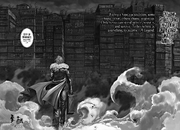 City of Darkness (九龙城寨)
City of Darkness wasn't always like it currently is. It used to be called City of Stone beacuse it's foundation is from stone.
This place was long ago abandoned by the goverment, no authority, a heaven for crime. A forgotten city... It is considered to be the most evil place in Hong Kong. Formed by hundreds of buildings, thousands of shops, and hundreds of nameless doctors. It has the highest population density in the world.
Besides the buildings and hospitals, there are other other shops set up. Kindergartens, temples, parks, churches, barbers, meat processing plant, cafeterias. And there are the black markets arenas.
People living here are all people that were forgotten. They have their own pace, their own values and their own way way of living.